odoo中如何使用替代工作中心?

创建BOM及工艺路线是企业制造过程自动化的第一步,现在让我们对流程进行更深入的分析。上篇文章中我们只说到了一个工作中心,但在现实中我们会使用到几个工作中心,因此如果员工不想等待可使用的工作中心,公司就需要处理在同一工作中心同时生产不同产品的问题。
As we see, bills of materials and routings were the first step in company manufacturing process automation, now it's time for a more in-depth analysis of the process. We focused on working with only one single work center in last article, but in reality, we work with several. In practice, if the employees don't want to wait for work centers to be available, the manufacturers have to deal with manufacturing different products simultaneously at the same work center.

在Odoo中,在工作中心被占用的情况下,我们可以通过使用替代工作中心来追踪制造订单。
Luckily with Odoo, we can do all of that and keep track of company manufacturing orders by allowing our employees to work at an alternative work center if the other one is already being used.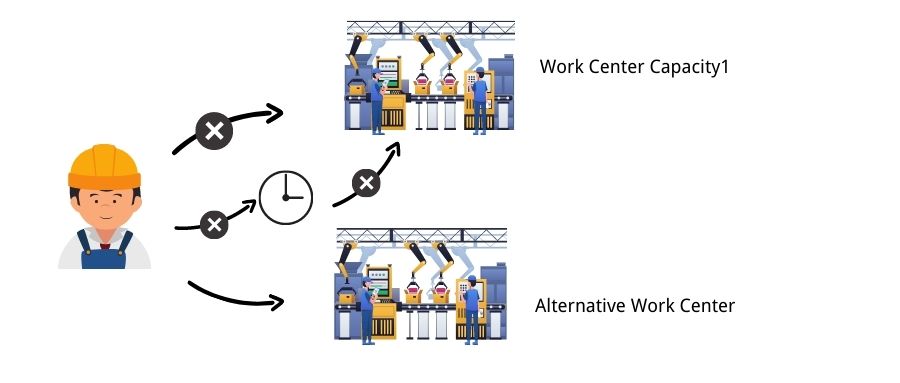 因此让我们进入数据库中来看下odoo是怎么提高生产力的吧!
So let's dive into our database and see how we can drastically improve our productivity.
---
1

.

激活并创建替代工作中心。




   Activate and create alternative work center.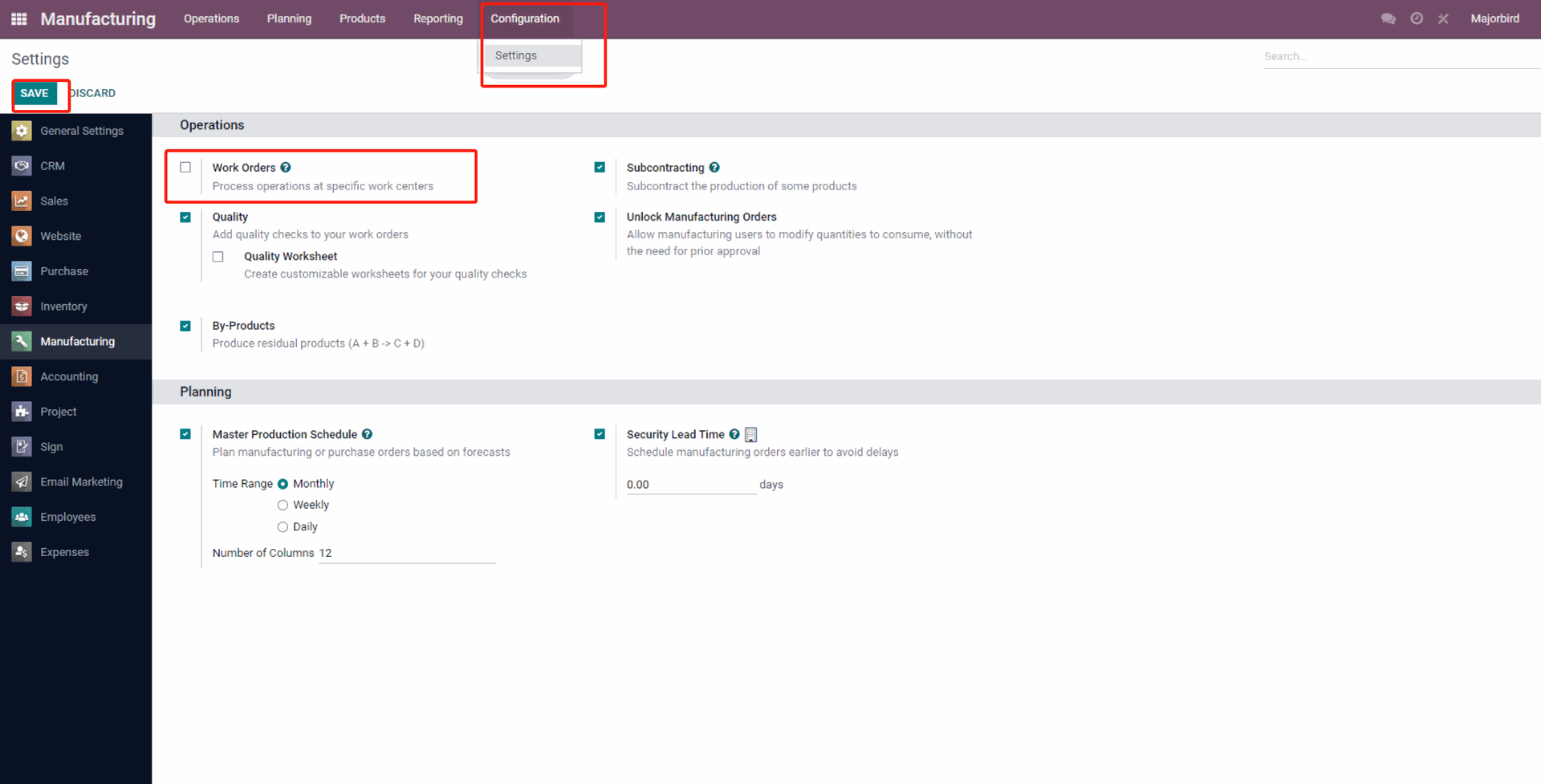 首先确保在设置里选择了工作订单。进入制造模块,点击配置,设置,激活工作订单,刷新后,点击配置,工作中心,我们可以看到系统会自动生成三个可以使用的工作中心。
The first thing to do is to enable the work orders is chosen. We go to manufacturing module, click configuration settings, choose work orders, save, refresh it. We can see form dashboard this will automatically generate three work centers.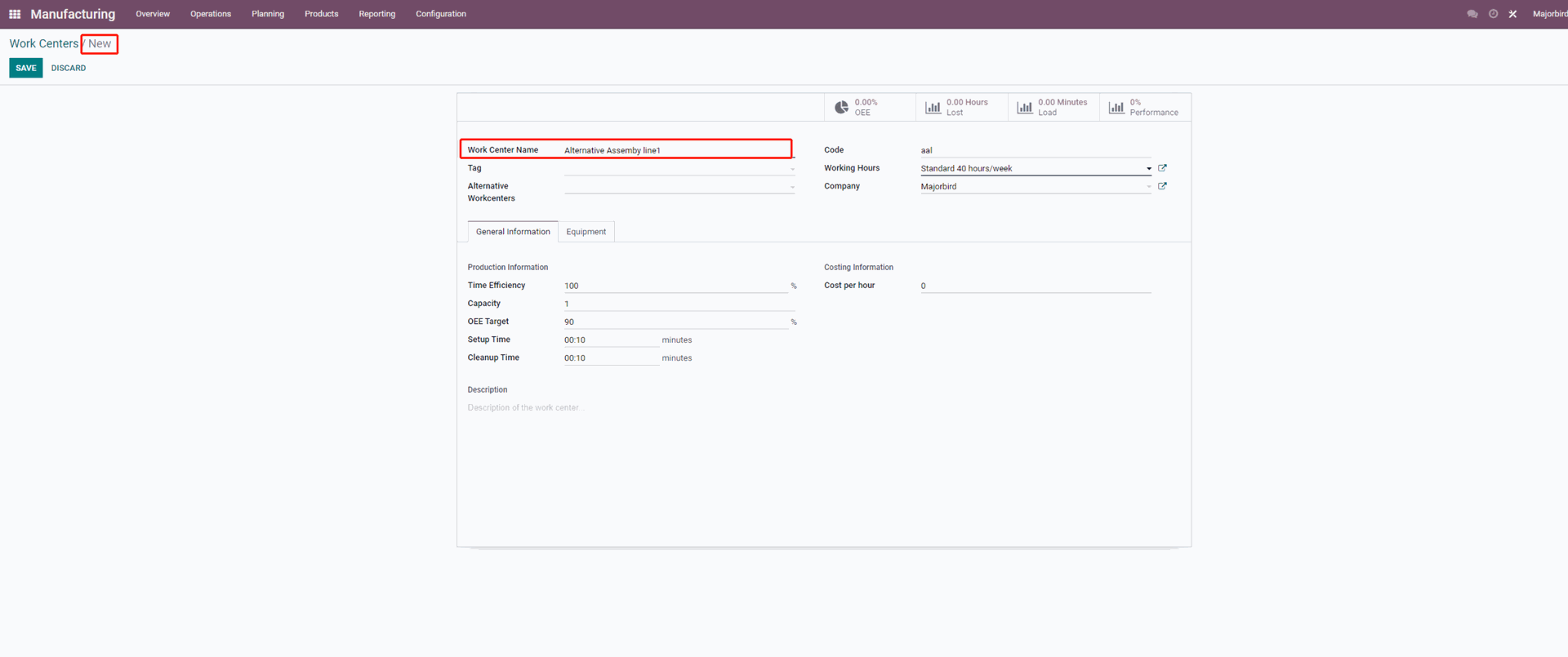 现在让我们重新创建一个替代工作中心流水线1。选择设置,点击工作中心,继续点击创建,添加工作中心名称,编码,工作时长,同时可以在一般信息里继续补充信息,点击保存。
Now we are going to create a new one. We are going to select configuration, click work centers, and click on create, then add work center name, choose working hours, and add other informations, then save.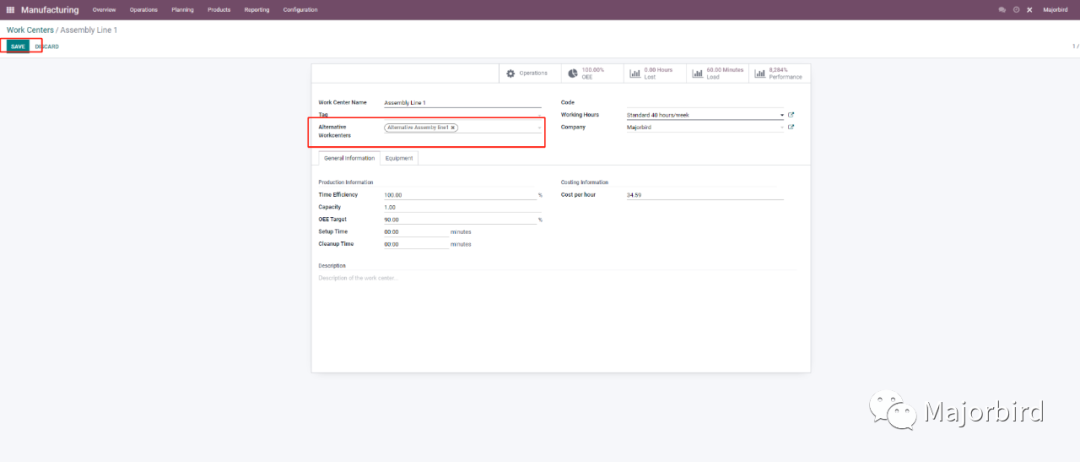 然后在工作中心里选择流水线1,点击编辑,在替代工作中心栏选择替代工作中心1,保存。
Then we going to assembly  line1 in work centers, click edit, then choose alternative assembly line1 in alternative workcenters, then save.
---
2

. 创建订单 Create order
 



现在我们可以在工作中心概览看到所有的工作中心,流水线1已经在使用中,也可以点击操作,工作订单查看正在进行的订单。
Now we can see all the work centers in the work center overview. Assembly line 1 is already in use. You can also click on the operations, work orders, then to view the in-progress order.


现在让我们重新创建一个制造订单,点击操作,制造订单,创建,选择产品,在这里我们选择桌椅组合,并确保此产品的BOM清单里的操作选项卡已经选择了流水线1,点击保存,确认,继续点击准备。
Now let's recreate a manufacturing order, click on operations, manufacturing orders, create, select product, here we select desk combination, and make sure that assembly line1 is selected on the operations tab in the BOM for this product.  Then click save, confirm, and click plan.

返回工作中心概览可以看到该制造订单自动跳转到替代流水线1,点击启动,准备。
When we return to the work center overview, we can see that the manufacturing order automatically jumps to the alternate assembly line1, click to launch, ready.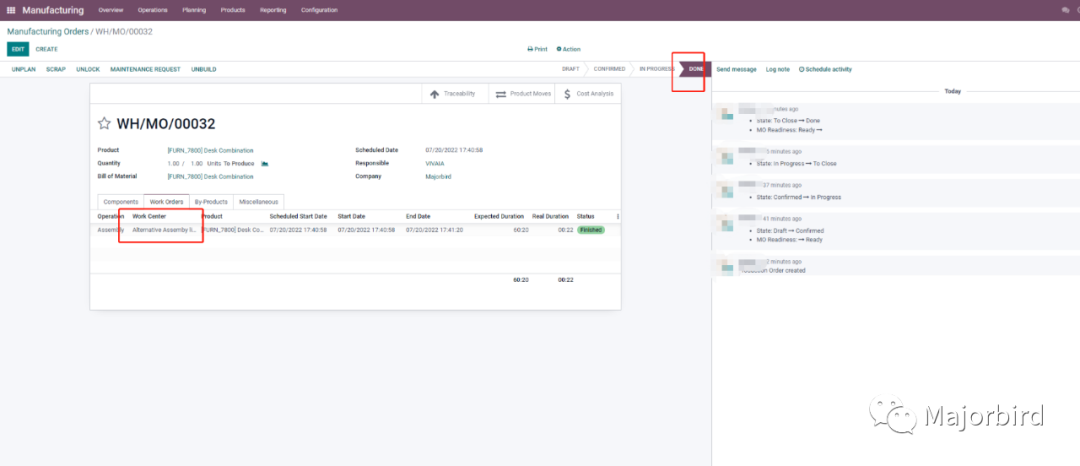 我们可以看到系统自动跳转平板视图,继续点击标记为完成,返回该制造订单,继续点击完成。这时我们可以点击工作中心选项查看此订单是在替代流水线完成的。
We can see that the system automatically jumps to the tablet view, continue to click mark as done, return to the manufacturing order, and continue to click mark as done. We can click the work orders option to see that this order was completed on alternate assembly line1.
以上就是我们今天所讲的内容。
如有更多疑问,或者您对Odoo系统感兴趣,希望了解更多,欢迎关注我们并打开下方链接,即可找到我们,我们将免费给您提供适合您业务流的demo。
https://majorbird.cn/contactus
If you have more questions, or you are interested in the Odoo system and want to know more, please follow us and open the link below to find us, and we will provide you with a demo suitable for your business flow for free.
https://majorbird.cn/contactus