本文我们讨论 Odoo的费用管理模块。
费用管理对于任何公司来说都至关重要,它能准确了解公司不同任务花费的资金情况。Odoo可以通过费用模块简化操作,帮助公司有效管理所有费用从而减少损失。Odoo系统中的费用模块已将所有费用管理活动包含其中。
In this article we discuss Odoo's expense management module.
Expense management is essential for any company to see exactly how much money is being spent on different tasks in the company. Odoo simplifies operations with an expense module that helps companies manage all expenses efficiently and reduce losses. The expense module in the Odoo already includes all expense management activities.
1.如何配置报销类型?
How to set expense types?

我们能够在配置菜单中设置不同的费用类型。当以固定价格报销时,在产品上设置成本。当以实际花费报销时,将成本保存为0.0。不要忘记针对每个费用类型设置费用税,一般很好的做法是使用含税价格配置税收。
We were able to set different fee types in the configuration menu. Set a cost on the product when reimbursed at a fixed price. When reimbursed as actual cost, save the cost as 0.0. Don't forget to set the expense tax for each expense type, it is generally good practice to configure the tax with the tax-inclusive price.

2.如何创建报销费用?
How to record expenses ?
作为员工(用户访问权限为员工),你可从 :menuselection:`我的费用 –> 需提交的费用`记录费用。选择相关产品,输入相应的信息,设置参考编号和说明。
As an employee (Employee in user access rights), you can record expenses from My Expenses ‣ Expenses to Submit. Select the relevant product, enter the appropriate information, set the reference number and description.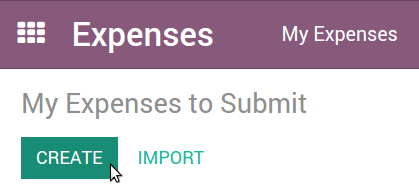 从邮件一键创建 In one click from email
员工通过电子邮件即可记录费用。添加收据截图并通过邮件发送,或简单转发账单即可!只需在 :menuselection:`费用 –> 配置 –> 设置`设置邮件别名(例如,费用 @mycompany.odoo.com)。为了安全起见,只接受经过认证的员工邮件。
Let your employees record their expenses from a simple email. Make a snapshot of the receipt and send it by email, or simply forward a bill!
The only thing to do is setting up an email alias in Expenses ‣ Configuration ‣ Settings (e.g. expenses @mycompany.odoo.com). For security purposes, only authenticated employee emails are accepted.

3.如何在会计应用中过账报销?
How to post expenses in accounting?

在经理批准报销报告后,会计部门前往 :menuselection:`费用 –> 会计 –> 需过账的报销报告`并检查会计、产品和税收。管理可点击 日记账分录过账 ,把相关的日记账分录过账到你的帐簿上。要进行此项操作,用户必须拥有以下访问权限:
Once expense reports approved by managers, the accounting department goes to Expenses ‣ Accountant ‣ Expense Reports To Post to check accounts, products and taxes. The management can click Post Journal Entries to post related journal entries into your books. To do so, the user must have following access rights:
Accounting: Accountant or Adviser

Expenses: Manager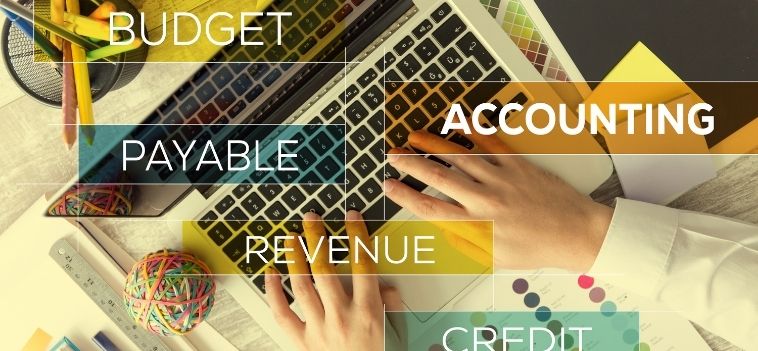 4.如何向客户重开费用发票?
How to re-invoice expenses to your customers?
我们能够在报销中启用客户开单设置,并在产品配置菜单里对所有报销类型设置开单方法。然后创建订单并添加对应的销售订单,提交确认后会计处理日记账分录过账。最后我们能够在 销售 ‣ 开具发票 ‣ 销售中开具发票。
We can enable customer billing in the Expenses settings and set the invoicing method for all your Expense types in the product configuration menu. Then create an order and link the expense to the Sales Order, submit it for confirmation, and post the accounting processing journal entry. Finally we were able to invoice in Sales ‣ Invoice ‣ Sales.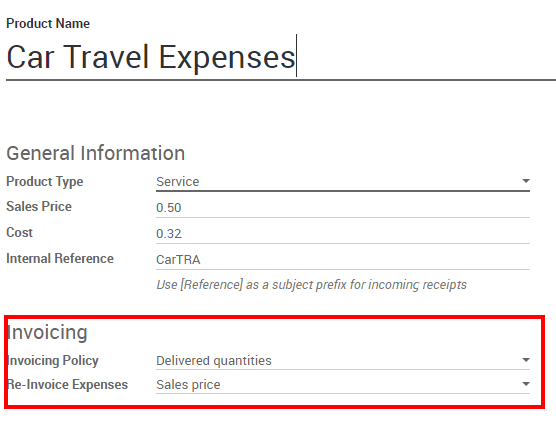 5.费用分析
Expense Analysis
Odoo能够在不同模块上创建报告和进行分析。Odoo几乎所有模块都具有报告功能,可帮助员工创建有用的记录和业务活动大纲。在费用模块中,我们可以使用"Reporting"选项分析每日、每周和每月费用。
Odoo is able to create reports and perform analysis on different modules. Almost all modules of Odoo have reporting features that help employees create useful records and outlines of business activities. In the Expenses module, we can analyze daily, weekly and monthly expenses using the "Reporting" option.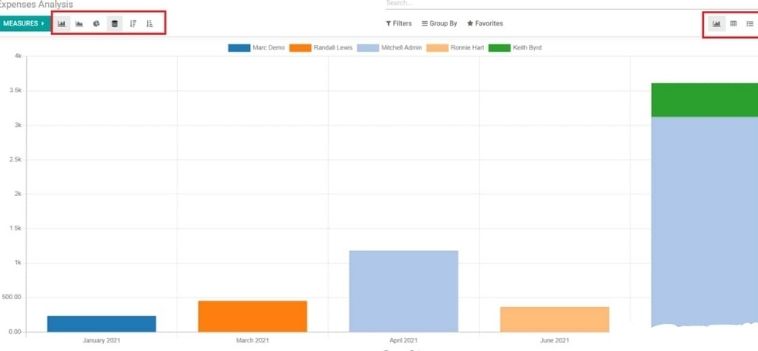 以上就是odoo消费模块的几个基础操作,如有计划实施odoo项目的或者对费用报销模块感兴趣的企业,可以联系深圳丹鸟。
The are several basic operations of the odoo Expenses. If you plan to implement the odoo project or are interested in Expense module, do not hesitate to contact Majorbird.