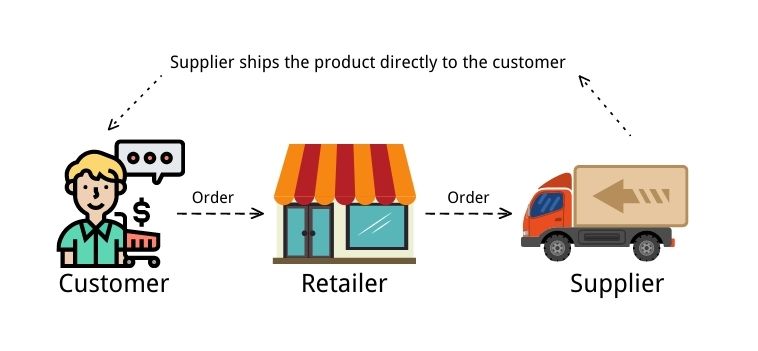 对公司来说,实施一件代发货策略,允许供应商直接将产品运送给客户,能够避免产品和库存销售不足,将其保留在产品目录中。代发货的优点众多,比如:
1.员工不会看到或者处理该产品,将有助于最大限度地降低风险,因为公司没有可能在一夜之间贬值的库存。
2.新产品也会更便宜,因为在出售之前不需要投资。
3.包装产品和准备装运这些工作将由供应商完成,可以减少员工需要执行的工作量。
For companies, implementing a drop shipping strategy that allows suppliers to ship products directly to customers can avoid underselling products and inventory, keeping them in the product catalog.
It has many advantages, such as:
1. The product will not be seen or handled by the employee and will help minimize risk as the company does not have any inventory that could depreciate in value overnight.
2. New products will also be cheaper because no investment is required before they can be sold.
3. Packaging and shipping the product will be done by the supplier, reducing the amount of work that employees need to perform.
那么让我们看看它在数据库里是怎么运作的。
So let's see how it works in the database.
基础设置 Basic Settings


我们进入采购应用程序,点击配置,设置,并激活直接运输选项。
We go into the purchase module, click Configuration, Settings, and activate the Dropshipping.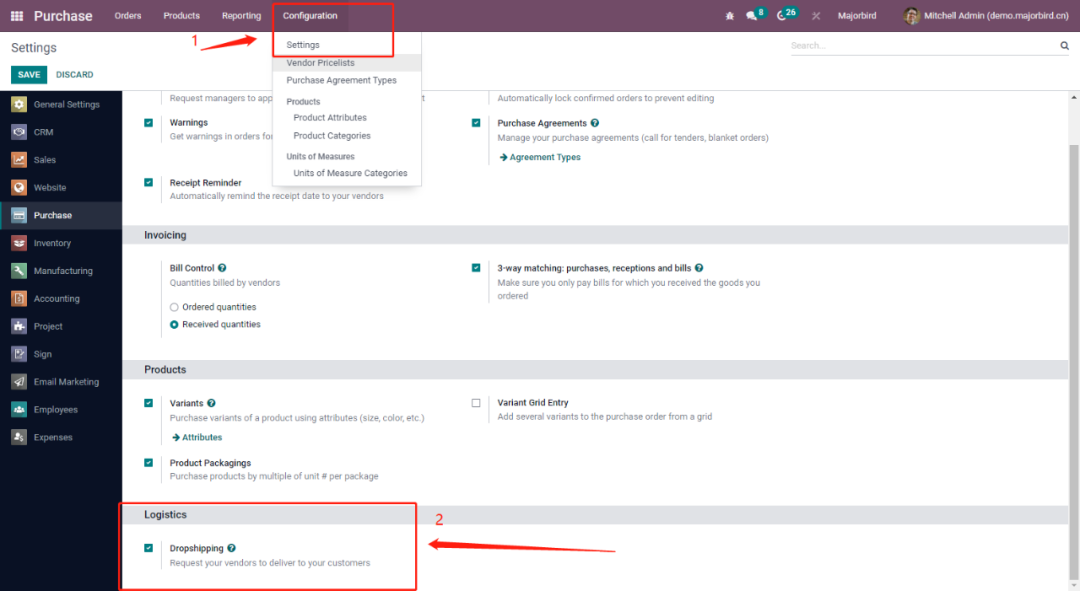 点击进入产品,搜索一款产品,比如办公室座椅。
Click Products, then search a product, such as office chair.

在产品选项卡里点击库存,确保选择代发货,因为在默认情况下,它不会被选择。
In this Product tab, click Inventory, choose Dropship. Because it will not be selected by default.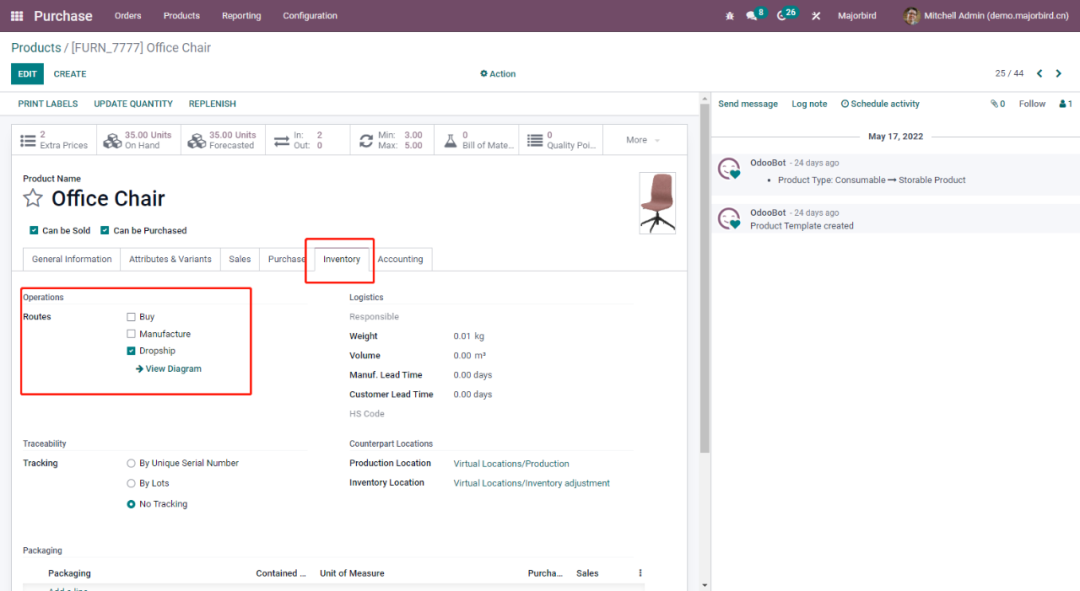 然后点击采购,确定添加供应商,以便直接生成采购订单。比如添加双子座家具公司,点击保存。
Then click Purchase, make sure to add Vendor, so that the PO can be generated directly. Such as Gemini Furniture, and Save.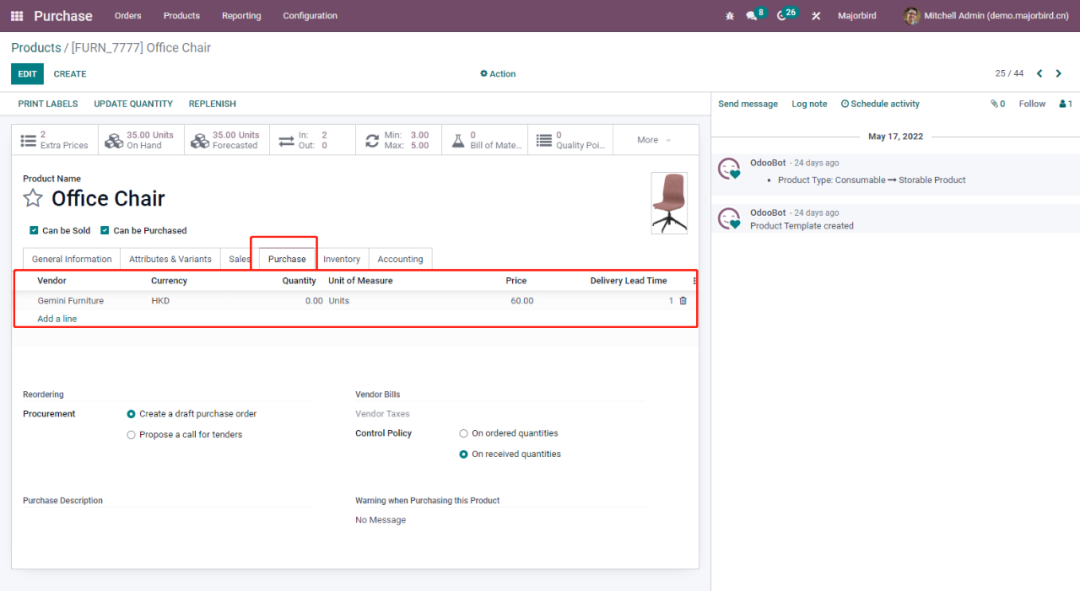 !如果该产品有多个供应商,列表中的第一个供应商将直接被选择创建代发货订单。If there are multiple suppliers for the product, the first supplier in the list will be directly selected to create the purchase order.
创建订单 Create Order
现在让我们跳转到销售模块,并为办公椅创建报价单。点击创建,选择客户,添加产品,点击保存。
Now let's go to Sales module and create a quotation for the office chair. Click Create, select the customer, add product, then Save.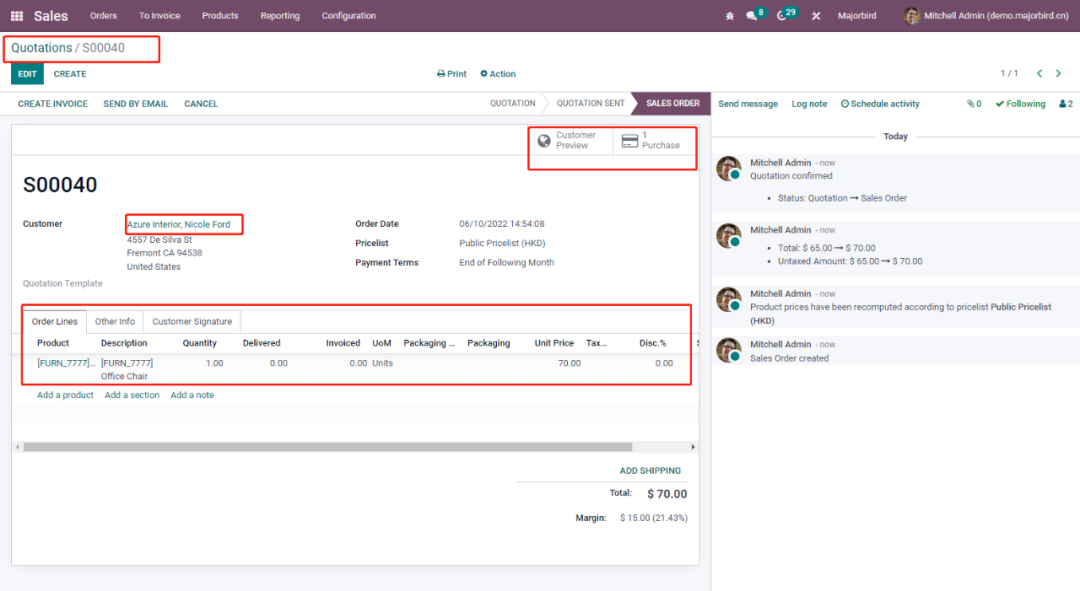 一旦确认,在右上角我们可看到生成的采购订单,可以直接点击查看。或者让我们继续返回采购模块并
找到自动生成的采购订单或询价单
。因为同样我们确实需要从供应商那里购买该产品,供应商会将其直接发给我们的客户。
打开询价单,确认
。
Once confirmed, we can see the generated PO in the upper right corner, you can click to view it directly. Or let's continue back to the Purchase and 
find the automatically generated PO or RFQ
. Because we do need to buy the product from the supplier, the supplier will ship it directly to our customer. 
Open the RFQ, Confirm
.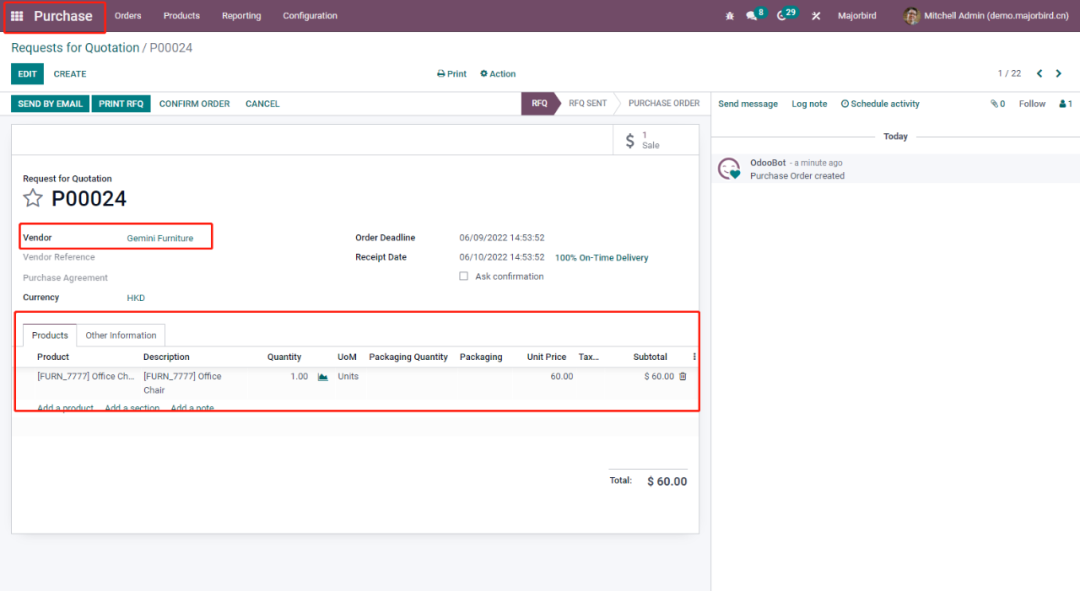 我们查看到采购单的信息,可以看到所有其他信息就像在常规收据上一样,但操作是直接发货。
We can see the information in the PO and can see all the other information as on a regular receipt, but the action is Dropshipping.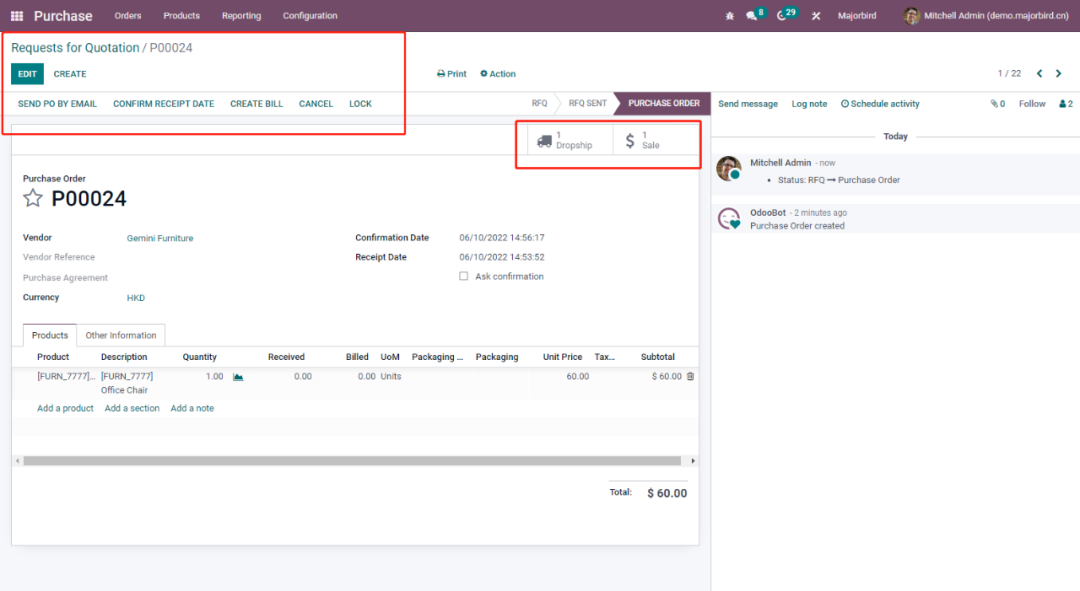 继续应用完成的数量,点击验证。
Continue to click Set Quantities and click Validate.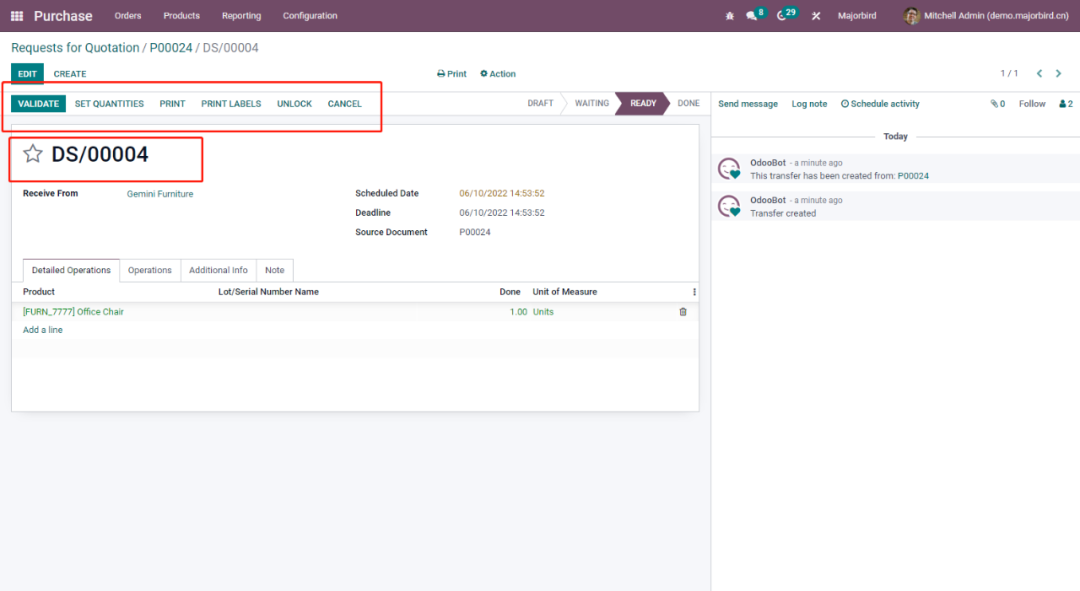 验证之后,我们回到销售订单里,我们将看到有创建了一次的交货订单,点击可以查看交货订单已经完成。然后可以创建发票,当收到客户款项后,点击收款。
After verification, we go back to the sales order, we will see the Dropship, click to see that it has been completed. Invoice can then be created, and when money is received from the customer, we can click Register Payment.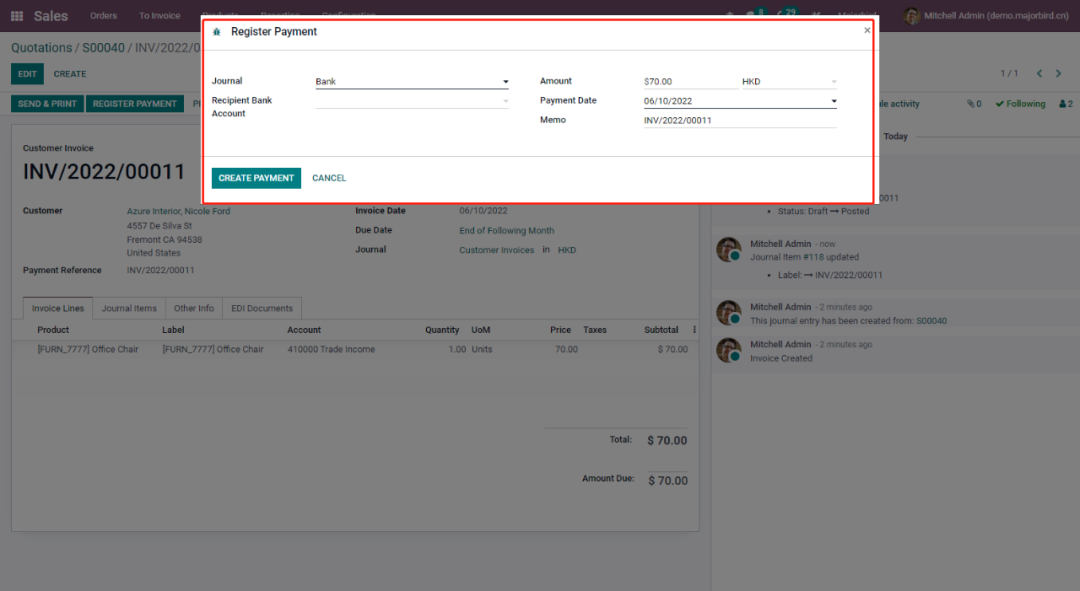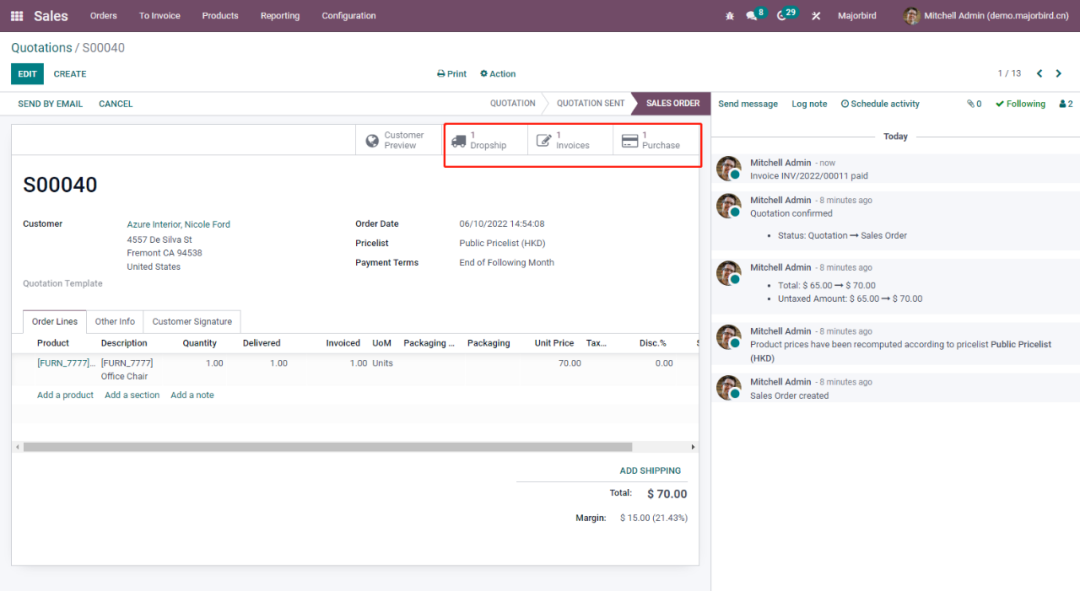 以上就是odoo ERP系统销售模块代发货功能设置操作指南。
如有更多疑问,或者您对Odoo系统感兴趣,希望了解更多,欢迎关注并联系深圳丹鸟。
The above is the operation guide for setting the Dropshipping function of the Sales module of the Odoo ERP system.
If you have more questions, or you are interested in Odoo and want to know more, welcome to contact Majorbird.
---
Start writing here...